Mobile Suit Gundam UC episode 5 「The Black Unicorn」 (ENG Sub)
After striking the Delta Plus, the newly arrived Unicorn Banshee captures the Unicorn Rx-0 and returns it to the Ra Cailum, where Riddhe encounters and meet Alberto Vist of Anaheim Electronics' , Riddhe question him only to be ignored. Meanwhile, on the Garuda ship, Martha requests Mineva's assistance to coerce Banagher's cooperation in disclosing the location of Laplace's Box.
On the Ra Cailum ship, Bright Noah speaks warm with Banagher and comes to terms with the latter's actions, before learning of the Federation's secret deployment of the new type Dogosse Gier class battleship General Revil. He sends orders to the Nahel Argama, instructing them to meet with the Garencieres.
The Tri-Stars, Riddhe, Marida and Banagher are ordered to provide cover while the Unicorn Gundam is transferred back to the Garuda. However, battle between the Garuda and Garencieres' forces breaks out, and in the ensuing chaos, Banagher hold the Banshee long enough for Zimmerman to board the Garuda. Riddhe enters the Garuda's rear dock and confronts Anaheim staff to rescue Mineva, but before he can do so, Zimmerman begins firing on them. Mineva takes utilize of the distraction to reach Captain Zimmerman, who gives her a parachute. An exploding Anksha damages the docking bay and incapacitates Zimmerman. Riddhe pleads with Mineva to no avail; she leaps off the Garuda and is safed by Banagher, who activates the Unicorn's pscyho NT-D system. After he brings Mineva to the Garencieres ship, Banagher forces the Banshee into the Garuda base hangar. Marida identifies the Delta Plus(Hyaku Shiki) as a Gundam and decimates it with the Banshee's Armed Armor VN arm. Having regained consciousness, Captain Zimmerman reaches out to Marida and implores that she return to the Garencieres. Realizing her true identity, Marida falls out of the Banshee's cockpit unconscious.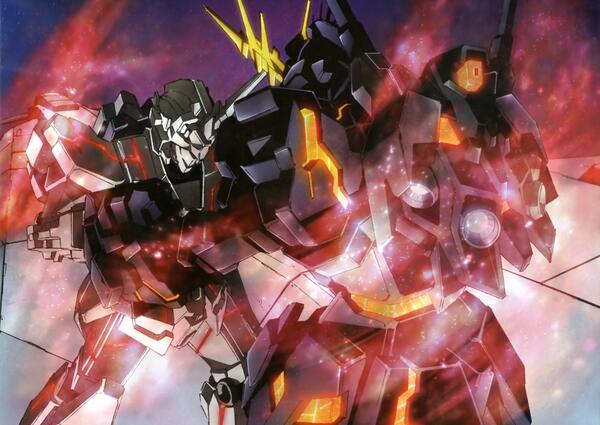 Disclaimer:
All images and videos here are property of their respective owners and used for reference purpose only. We claim no rights to it unless otherwise stated. Product prices and availability are accurate as of the date/time indicated and are subject to change. Any price and availability information displayed on this site at the time of purchase will apply to the purchase of this product.
Use Facebook to Comment on this Post